Calling craft lovers! We are excited to announce our traders for our Picture to Page Papercrafts Show and Scrapbooking Expo in Pakenham (Melbourne, Victoria, Australia). While many of our favourites are returning, there are a few new faces! And we are excited to welcome them!
New Traders to Picture to Page Pakenham
A Paper Experience
Kerri and her team offer a range of papercraft supplies – beautiful papers, card, amazing ribbons, embellishments and bling, washi tape, etc. They will also be offering a free 'make and take' with a small washi tape card which features a mini envelope created by a punch, together with a kit which has all the makings for the card. See their entire range on the A Paper Experience website.

Create-a-Memory 4u
Heading to Melbourne from South Australia, Mandy offers a range of scrapbooking papers, embellishments, card making products, ribbon charms, metal embellishments, stickers (including gold silver, words and borders), dies for the cuttlebug/Bigshot machines, embossing folders and stamps. They will be doing demonstrations at their stand.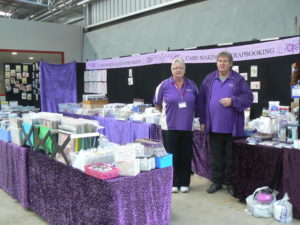 Creative Memories
Creative Memories has returned to Australia with a range of their own products including tools, albums, papers and decorations. Rae Dowie will be representing them at Pakenham. Creative Memories  is also teaching scrapbooking classes.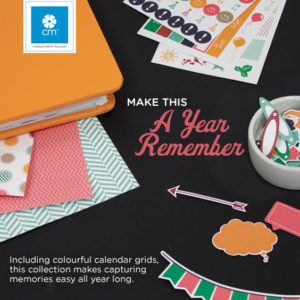 Paperstop
Steve and his team are bringing a fantastic range of paper, card, envelopes, pre scored cards, patterned paper and seals; perfect for all of your cardmaking needs.
Returning Traders
Bellbird Paperarts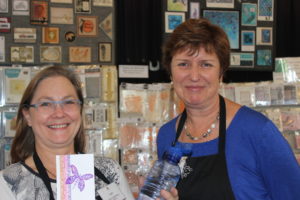 Specialising in all things for cards and multi media projects, Bellbirds carry a great range of stamps, metal dies, Tim Holtz ink pads and markers, pan pastels and Australian designed range of stencils and stamps . They specialise in watercolours, carry our own exclusive Diamond Glitter and a new stamp design (just released Feb 2016).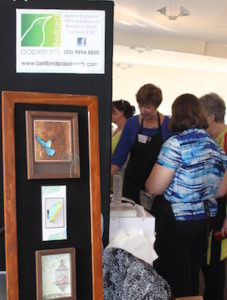 The Craft Emporium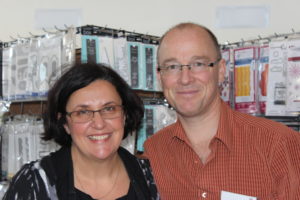 The family owned Craft Emporium offers individually designed monthly scrapbooking and papercraft kits, along with loads of inspiration and examples to make your crafting quick, enjoyable and easy. They also run classes in Macedon, Victoria and have a huge variety of scrapbooking papers, cardstock and beautiful embellishments to choose from. Their Facebook page shows this month's class layout.
Sonia will be doing  range of demonstrations across the Picture to Page weekend.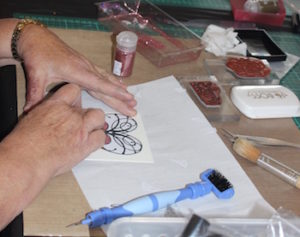 Little Bits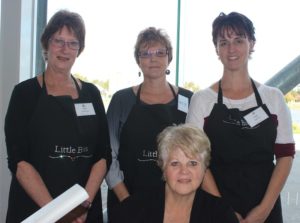 Lesley and the Little Bits team are the stamps and card making specialists, stocking a range of unique cardmaking products, including:
– Gelatos
– Pan Pastels
– Crafty Individuals stamps
– Storage supplies
– Quality card and envelope packs
– A heap of bargain packs
– Quality and brand new general and Christmas stamps
– Journalling and mixed media products and journals
– And of course glitter!
We are holding make n takes , as well as mini classes, which we will be holding on our stand over the weekend. The cost for the mini class is $5.00 and each participant will receive a $5.00 voucher to be redeemed back off the stand. All materials and equipment is included so all you has to do is pop your name down and turn up at the appropriate time…..easy.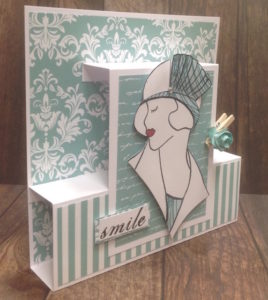 Scrap 2 Relax
Scrap 2 Relax is a shop front and online store located in Drouin, West Gippsland. They stock a wide range of papers, cardstock, chipboard, embellishments, mixed media products, card making, stamps, dies, embossing folders, tools, albums, storage items, and lots more.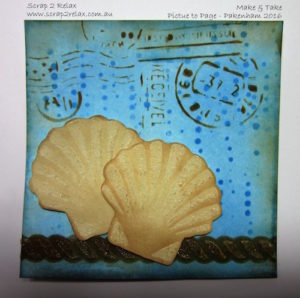 Creative Dreams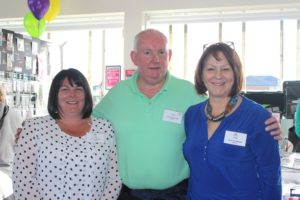 Papercrafts retail store The Creative Dream team are regulars at Picture to Page shows. They have a retail Papercrafts store in Boronia.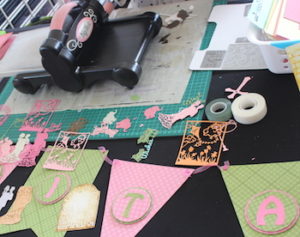 Paperzone Company
The Paperzone team stock a large range of dies, including Tattered Lace, Nellie's Choice, Embossing Folders and a large range of 3D die-cut decoupage range. They also stock a range of craft kits and a largest range of Stickers. A very large range of Cardstock and Papers, scrapbooking materials, Adhesives, Machines  and tools are also available.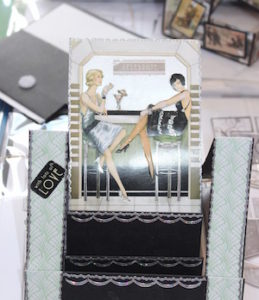 Scrap Everything
As their name suggests, no project should be complete without an element of scrap somewhere! Katherine and her team will lug along their extensive range of stamps, dies, markers and everything else you will need! They are returning to Pakenham after missing last year's show. For more lovely scrap goodness, visit the Scrap Everything website.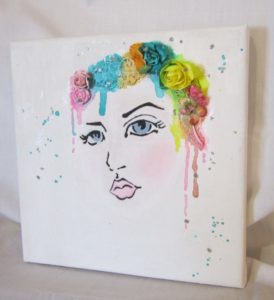 Flourish with a Bling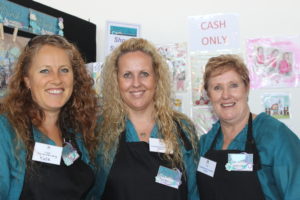 Bling, pearls, rhinestones, flourishes, embellishments – all their own designs. Flourish with a Bling aim is to provide their customers with quality scrapbook embellishments at very competitive prices. With their brand new designs and unique materials they're putting the Bling into Scrapbooking! See Flourish with a Bling online store for their sparkling product range.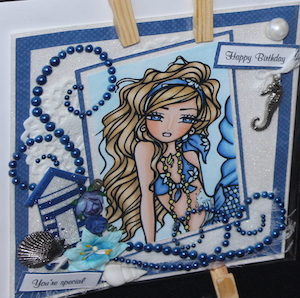 Mixed Media Art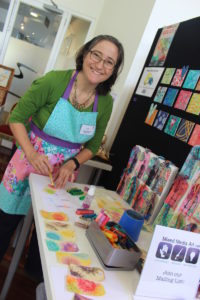 The Mixed Media Art team brings you a range of stencils, stamps, ephemera, inks and paints to inspire your scrapbooking, paper craft or mixed media project. They will be demonstrating the GelliArts Gelli plate all weekend and have a special "Gelli Plate Starter Kit" with everything you need to get started with Gelli plate printing. All you need to add is some paper and inspiration! You can join the global community with their Facebook page. They are also excited to announce their new studio and Store in Melbourne. Details of classes will be available at the show.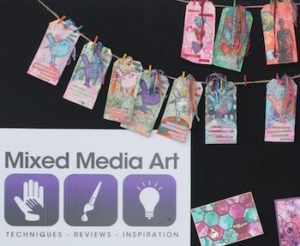 Stampin' Up
Janine Rawlins in our Pakenham Stampin' Up! rep. Stampin' Up! makes papercrafting easy by offering a complete range of co-ordinated stamping and scrapbooking products. Everything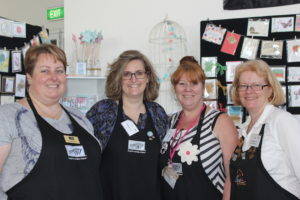 is designed to work together at an affordable price to make papercrafting creative and fun. As individual Stampin'Up! Demonstrators we offer one to one advice on your papercrafting needs. Plus we conduct stamping and scrapbooking classes and workshops in your home or our own homes at times that suit you and your friends. Janine shows off her latest creations on her Facebook page.
Close to My Heart
Close to My Heart is the "show you how" company. From stamping to card making, scrapbooking and all manners of paper crafts we've got you covered. Helping you find creative quick and easy ways to document and preserve the important moments in your growing family's life. We offer pocket and traditional scrapbooking solutions, along with cards for all occasions, fun decor and gift ideas. Pop in and speak with Danielle and the team, we offer products as well as classes, workshops, and retreats.
Catch up with Danielle on Facebook or her website. They will be offering a *surprise* Make & Take at the show!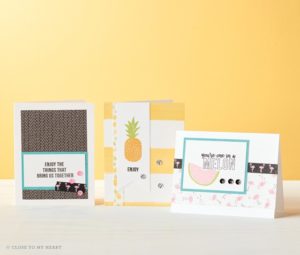 Manor House Creations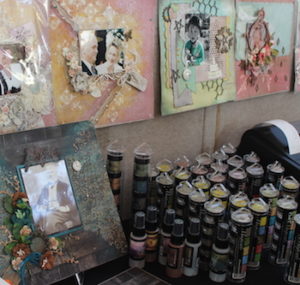 Irene Prosser is such an enthusiastic crafter who enjoys sharing her knowledge and her love of the papers and embellishments she has. She stocks a range of beautiful scrapbooking and craft flowers, papers and embellishments, including the wonderful range by Beautiful Maja, Pion, Cocoa Vanilla, 7 Dots Scrapping Papers Plus Dusty Attic Chippy, Colour Burst Products Dutch Doobaddoo stencils and lots more. You can see more of their stock on the Manor House Creations online store.
Eclectic Images
Cathy and her team at Eclectic Images will be along with their unique range of Stamps, Ink Pads, Embossing Powders, Scrapbook papers, Gloss and Cotton Blend A4 cardstock. See their range on the Eclectic Images website.

Kazmos Kreationz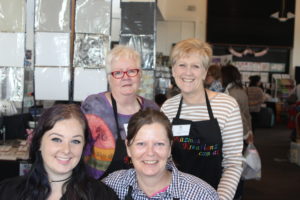 Kazmos Kreationz are coming back to Pakenham with their mixed media art brilliance! They are an online business specializing in mixed media and art supplies. They have a workshop in Cranbourne where locals can shop in person and where they hold classes in art journaling and mixed media techniques. You can find out more about their classes at Kazmos Kreationz website and Facebook page. The Kazmos team will be demonstrating over the weekend.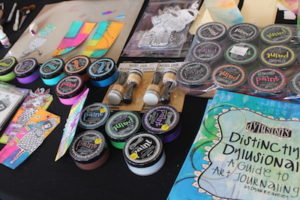 Lyndel 3D Cardmaking
Julie and her team of helpers at LynDel 3D Cardmaking have a retail and online store. They specialise in providing new ideas and products for cardmakers and stock a huge variety of 3D sheets, nesting and cutting dies from companies like Cheerylynn, Tattered Lace and Marianne Design to name a few. Their charming little retail store is tucked at the back of their home in country Terang and is brimming with cardmaking products. Their online store features a new workshop weekly that deals with new products and cardmaking techniques and is a great site to visit for ideas as well as to shop. LynDel's website shows their latest products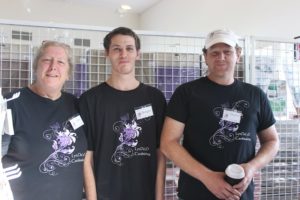 Kaszazz
Natalie Pecovnik i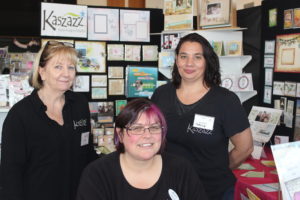 s representing Kaszazz in Pakenham. They have their unique range of scrapbooking, cardmaking and papercraft classes as well as selling a great range of products. See Natalie's Facebook page for her latest projects.
Hobby Hoppers
We are happy t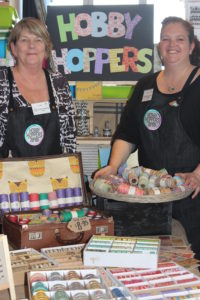 o welcome back Barb and Trish from Hobby Hoppers to Picture to Page, with their unique range of embellishments. They specialise in craft supplies including Washi Tape, Hemptique Twine, Stickers, Craft Kits, Motex Labellers and tapes and the Craftabout desk organiser. You can see the full range of products on their Etsy store or read more about them on Facebook.
The Hobby Hoppers team are excited to be offering their lollipop card as their Make & Take.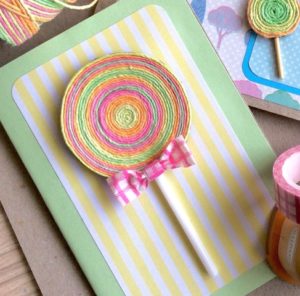 Cherished Frames
Belinda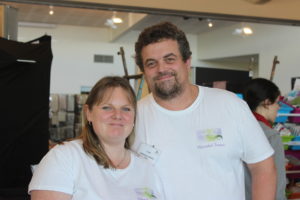 and her team sell a wide range of scrapbooking products. They specialise in beyond the page and offer classes run in Chirnside Park. They have a large range of wood in stock so if you are after anything in particular at Pakenham please just send Belinda a message. Cherished Frames also offer a wide range of invitations for all occasions as well as all the products to make your own. You can follow them on their Facebook page.
Alison Ellis Designs
Alison Ellis is an Australian designer and popping back in to Pakenham for one last show (or so she tells us!) They  have a lovely range of patterned, decorative scrapbooking papers and rubber stamps. Join them on Facebook.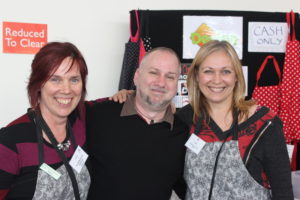 Kids Crafting Corner
We will fit the kids crafting corner in somewhere!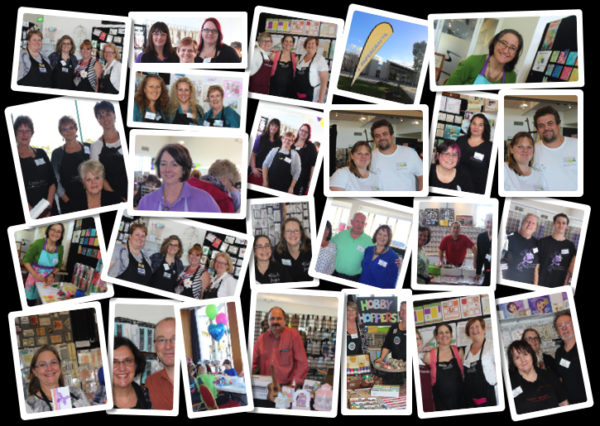 What can you expect from our Papercrafts Show?
Dedicated paper crafters love our boutique papercrafts show and scrapbook expo because you can find 24 retailers and traders all under the one roof. And that roof is the lovely Cardinia Cultural Centre, with lots of natural light! You don't need to race from one side of Melbourne across to the other to find what you are looking for. You will be able to find your scrapbooking supplies here, as well as the latest products from Ranger, including the Tim Holtz Distress range, Dyan Reaveleys Dylusions range, the Dina Wakely brushes, stamps and paints.