Pakenham & Sandown
Janine Rawlins in our Stampin' Up! representative. Stampin' Up! makes papercrafting easy by offering a complete range of co-ordinated stamping and scrapbooking products. Everything is designed to work together at an affordable price to make papercrafting creative and fun.

As individual Stampin' Up! Demonstrators we offer one to one advice on your papercrafting needs. Plus we conduct stamping and scrapbooking classes and workshops in your home or our own homes at times that suit you and your friends. Janine shows off her latest creations on her Facebook page.
Classes for Sandown 2017
Stampin' Up!  are offering two different classes across the Picture to Page weekend. These classes are held in a classroom space, away from the busy show exhibition floor!
~ Class One ~ Mini Pizza Box Class ~
The morning classes feature the Mini Pizza Box Class with 5 created cards and decorated envelopes.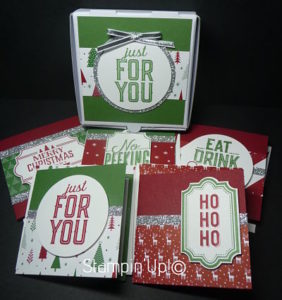 Saturday 14 October 10am – 11am
Sunday 15 October 11.45am – 12.45pm
Cost $20
Please make bookings at the Stampin'Up! stand.
~ Class Two ~ Boxed Set Christmas Cards Class ~
This delightful afternoon class,  Acetate Boxed Set of 5 Christmas Cards with Envelopes, gives you the opportunity to kick start your Christmas card making with these delightful cards and matching envelopes.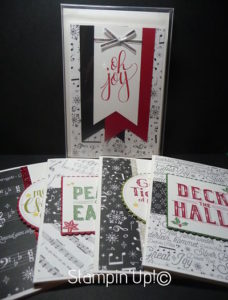 Saturday October 14  1pm  – 2pm
Sunday October 15     2.15pm – 3.15pm
Cost $20
Please make bookings at the Stampin'Up! stand.

Geelong
Tricia and her team are representing Stampin' Up at the Geelong show.
They will be running three classes that will run for 2 hrs throughout each day. Each class will be $15. Book at the Stampin' Up stand during the show.
Class 1: Daisy class (3d flowers in jar & card) 10-12pm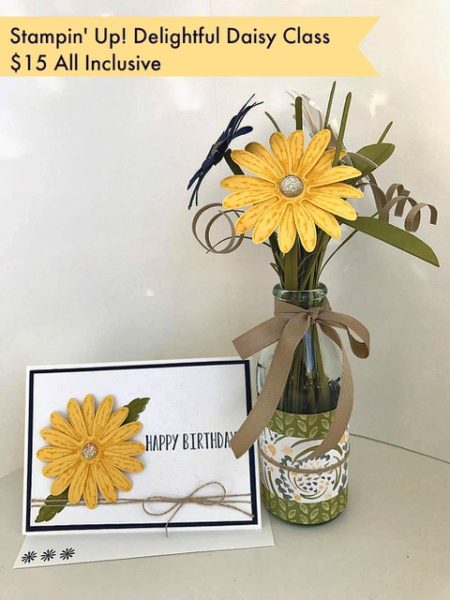 Class 2: Petal Garden card class 12-2

Class 3: Label Me Pretty Crate of Cards 2-4pm

Bendigo
Heather and Rosalie are going to be at the Bendigo Picture to Page show. They are offering an exciting collection of mini classes, each day 11am and 1pm. See Heather at the Stampin' Up stand to book.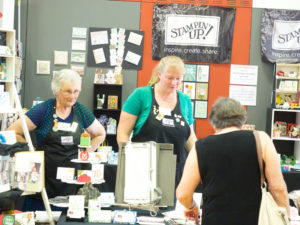 Saturday: 11am Decorated Notebook with matching card.($15 fee)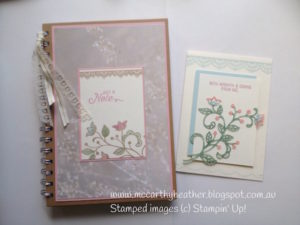 Saturday 1pm Tarnished Foil Embossed Card ($10 fee)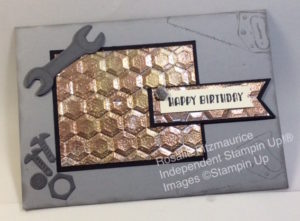 Then on Sunday: 11am: Chickens Fun Fold Box Card ($10 fee) with choice of numbers for age (or 21 again)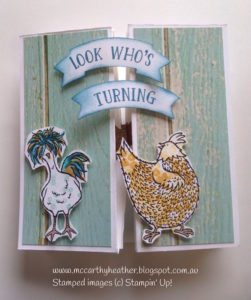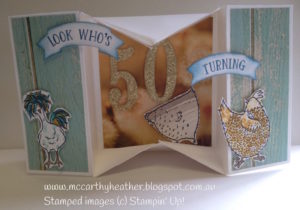 Sunday 1pm: Pretty Carousel Hexagon box ($10 fee)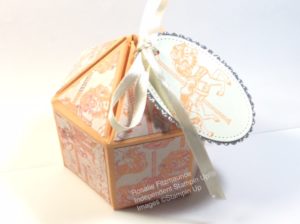 The Stampin' Up! team will also be offering a free make and take, so you will have a chance to play with the latest Stampin' Up! products, including inks, rubber stamp and cuting dies.