The From Picture to Page and Beyond Sandown show is our pre-eminent show and is held on the third weekend in October, at the Sandown Raceway, Springvale. This central location is easy to access via car or train, and combines location for space which suits us down to the ground – with lots of free parking and professional catering, with something to suit everyone!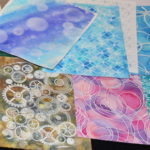 Our Sandown show traders come from around Australia, as well as Melbourne. Each of our traders are experts in their field and offer a unique range of mixed media art supplies, stamps and stamping materials and scrapbooking supplies, plus a few paper crafts that are hard to fine!
October is the time of year we start thinking about our Christmas cards and gift making. And the Sandown show is just what you need to get that creativity flowing! We delight in having a show just for paper crafters, scrapbookers and mixed media artists that allows our specialty traders to focus on the tools and techniques you need to see the latest products and watch demonstrations from our talented local crafters and artists.
The Sandown expo will continue to offer a range of free "Make and Takes" and mini classes (for a small fee) so you can create a small project with the latest techniques and products. It's a fun way to learn about these new supplies and ask our traders about their use and application, as well as any other crafting questions you may have.
And of course, our venue offers free car parking and a kids crafting area, as well as professional catering when you are in need of refreshments!
Highlights for 2017:
All of the Sandown show highlights are here.
Saturday 14 October 9:00am – 4:00pm
Sunday 15 October 10:00am – 4:00pm.
Entry – Adults $12.00
Multi Purpose Room
Sandown Raceway
591 – 659 Princes Highway, Springvale, Victoria
Near corner of Springvale Road and Princes Highway
Retailers for 2017:
Click here for full list of Sandown Retailers
Directions and Getting there:
Sandown Raceway is located 20 minute drive from Melbourne and can easily be accessed via the Monash Freeway or Eastlink
Please note: GPS directions often send people to the Corrigan Road entrance. This will not be open for this show. Please use the Dandenong Road / Princes Highway entrance.
If coming from Melbourne along the Monash Freeway, exit at the Ferntree Gully Road exit, then turn right into Springvale Road, then left into Dandenong Road / Princes Highway
If arriving along Eastlink, use the Princes Freeway exit (Exit number XX if travelling south, towards Frankston or Exit number YY if travelling north, towards Ringwood)
[reference http://www.eastlink.com.au/maps.aspx]
By train and bus:
To get to the Sandown Papercrafts Expo by train, you need to find the Cranbourne – Pakenham Line (through Dandenong) and get off at the Sandown Park station.
You can plan your trip with the Metro website to Sandown Park

Once on the platform, you need to head north, towards the racecourse and along the Grandstand to the Multipurpose room. Just follow the flags.
To get to the Sandown Papercrafts Expo by bus, you need to take the 800 bus route, which runs from Chadstone to Dandenong. Once you get off at the Racecourse Drive stop, walk along the path to the Multipurpose room – follow the flags!
You can plan your trip with the Metro website to Racecourse Drive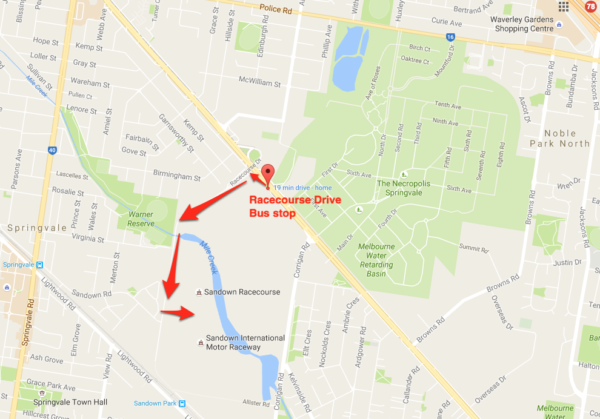 Accommodation:
If you would like to stay near the Sandown Papercrafts show, here are two of the many options available:
Sandown Regency
477 Princes Highway, Noble Park
See their website for details – Sandown Regency Website
Best Western Sandown Heritage Motel
433 Princes Highway, Noble Park
See their website for details – Best Western Sandown Heritage Website
~ * ~