We welcome Vicki and the Papercraft Treasures team to the Picture to Page show.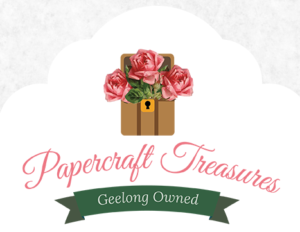 I will let Vicki tell you a bit about herself:
I'm Vicki, the owner of Papercraft Treasures and a Geelong local. I hope you enjoy browsing the site and that you find all you need for your scrapbooking and card making needs.

My journey with scrapbooking and card making began 12 years ago. In 2000, I attended a few classes. What can I say? I was hooked instantly and have never looked back.

Alongside nurturing my love for the hobby over the years, I have also worked in a crafting retail store in Geelong that is no longer in operation. This not only fuelled my excitement for amazing and versatile scrapbooking products, but also expanded my knowledge of techniques and creative ideas.

It's this hands-on enthusiasm that I miss from working in retail, and that I want to share with customers and fellow scrapbooking enthusiasts not just with our online store, but also Papercraft Treasures' scrapbooking and card making classes held in Geelong. These sessions are excellent value for money and cater to people of all ages and levels from beginner to advanced.

From my years in retail, I understand that it's those extra special touches that delight customers. For Geelong locals or those who live nearby, I offer the option for them to make an appointment to drop by our home office and collect their scrapbooking or card making materials.

In a nutshell, from our online store to getting to know our customers and community personally through classes and product pick-ups, Papercraft Treasures provides an all-round fun experience and the doorway to scrapbooking and card making fun.
Sandown 2017
Vicki is showing off her creative skills with these gorgeous cards.




Geelong 2017
AT P2P Geelong, Vicki will be demonstrating these three cards across the weekend, as well as Lavinia stamps, Altenew Stamps, and Chameleon pens.